Top Shelf Franchising Franchise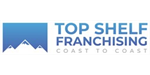 Top Shelf Franchising - Franchise Broker & Option Provider Franchise
Are you looking to exit or expand your business and franchise?
Profile
We at Top Shelf are a premium match matching franchise broker that provides coast to coast coverage in Canada.
Our Top Shelf team is all entrepreneurs who have owned businesses in the past and are here to find you the right business and franchise options. Inquire with us today for a free consultation and to know more about how we do business.
Finding a business can be challenging and at times stressful. Doing this search all alone and sifting through all the businesses available is difficult and can add more pressure to your goal of owning a business.
As many buyers and parties want to get down to the point of where this business is at and cut through the fat of your business search. That's where we can help!
We are now working with a group of buyers and representing buyers to assist them in:
Finding and searching a business cutting through layers quickly
Negotiating a Deal
Evaluating business value and feedback on evaluation
Feedback analysis report of business you have narrowed down
Inquire today to find out more on how our team of entrepreneurs Coast to Coast across Canada can represent you and look out for your best interests.
Our founder of Top Shelf has been involved in 5 successful start-up businesses and have since sold these businesses for a great positive return. We and our team all know how the process works and are here to streamline your search and provide you with guidance and feedback that you need to here.
We do business in Edmonton, Calgary and Vancouver and now in Toronto & Montreal & Ottawa and know these markets very well.
Are you looking to exit or expand your business and franchise?
Reasons To Bring on Top Shelf as a Client:
You will work with a team of associates from coast to coast in Canada. All of our associates are entrepreneurs who produce results for clients.
Our Team is speaking with leads and buyers every day and have a list of pre-qualified buyers ready to talk business.
We are a results driven company and are geared to produce results by spending time and dollars on marketing to fresh new buyers.
We have been in business for 12 years and have an excellent track record for selling businesses across Canada.
We at Top Shelf Franchising work on a non-exclusive basis.
Our team is designed to create a win-win situation and are paid upon performance.
Let's talk today